Numerous studies have shown that the freelancing entrepreneurial spirit is thriving and vibrant and many professionals are increasingly leaving their full-time employment to take this lucrative plunge. A large majority of people are trying to get away from the clutches of a rigid, one-dimensional job and entering the world of freelancing.
Today we can see the general progressive shift in hiring a freelance web developer. In the US itself, freelancers constitute
35% of the workforce
generating $1 trillion in the past year while in the
European Union it is 16.1%
. Becoming a freelancer does involve a few risks but the advantages it generates easily outweigh the disadvantages or the risks involved.
Many freelancers have left their current jobs due to various reasons, chiefly being the monotony of the daily grind. Other reasons are commuting to and fro every day, too much stress at work, less pay, not being your own boss and many more. Here is a quick look at the various advantages of freelancing.
i. Location Independent.
ii. Time-Independent.
iii. Be your Own Boss.
iv. Make Good Money.
v. Make Good Contacts.
vi. Constantly learning and developing new skills.
vii. Face New Challenges Regularly.
In this article, we will talk about the advantages of hiring a freelancer. How a well-probed freelancer could help your business gain untold advantages. Especially if you are a small business owner and you have a software-based requirement, which is not related to your business and you know that you might require a software developer only temporarily, hiring a freelance developer is the best bet.
A few advantages of hiring a freelance Software/Web Developer are mentioned below:
1. Cost
To get any work done approaching established companies is always an option, but their charges are excessive. Though these are justified, smaller and medium-sized businesses cannot take such a huge hit on their budgets. In such cases, hiring a freelancer for your work becomes the best bet. Hiring a freelancer is considerably cheaper as the brand value factor is eliminated. Above which, a freelancer does not have too many overhead costs like health care and other such benefits.
Talking about software requirements, you might have a mobile app requirement to boost your small business, or a website requirement or maybe a new accounting software. The only thing a freelancer needs to do your work is his laptop, internet connectivity and time. This reduces his monetary investment and hence he will charge you much less than an established firm might for the same work.
2. Single point of contact:
Working with freelancers ensures you are communicating with the very person working for you no information is being lost in the long route of communications. He is the one point which will clarify all your requirements. Unlike in an established firm one person will attend your calls he will communicate with the concerned department as he might not have the technical knowledge about the product/service, then get back in touch with you resulting in a lot of valuable time and information lost in the process.
Instead of this a freelance Mobile App or Web or Software developer who is technically competent and is familiar with the know-how of your project will give you precise and detailed answers to all your queries.
3. Immediacy and High Quality:
A freelancer is always motivated to perform better in every new task he receives. He is an individual who is highly motivated and wanting to excel, as he has that feeling of my work and my company. To promote his own name, he will go to the point of excellence and still strive to deliver better results. This feeling of being highly motivated and performing excellent is void in most of the people working for a firm.
4. Risk Reduction:
Since freelancers are not employees and hence the risks are substantially reduced. Freelancers do not have right to collect unemployment insurance. They do not have any right over workers benefits. Also, if they are not delivering according to your requirements they are easy to replace. These things can be highly useful in states which create employment laws at will. Since there is no law which empowers a freelancer to claim for extra benefits and go on strikes, the work is always in progress.
Talking about software requirements like a mobile app or websites there are more than ample freelancers who have undertaken this work. There is absolutely no shortage of the same and are easily available in the market and have a cut-throat battle when it comes to pricing too. Hence this is an advantage for you and you do not have to worry about losing one as he will be easily replaceable. Keeping this in mind a freelance mobile app or website or software developer will never take his client for advantage and always deliver beyond expectations.
5. More Innovative:
It is believed that freelancers are more open to developments and new technologies. In an established firm, they have a set of procedures and systems, which they follow for every project they get. They believe in it as a company culture and are not always flexible or receptive to change. An established firm is programmed to deliver efficiency and consistency but not be innovative and joy. Which comes from freedom, transparency, and connections, which freelancers resolutely believe in. With their diverse experience, freelancers are constantly to developing and evolving. They are benevolent to cutting-edge solutions and innovative ideas. Majority of the freelancers enjoy their professional work life and are always learning something new.
Take an example of a mobile app. Every business will have its own set of specifications and different functionalities requirements in the app. Hiring a freelancer who has such varied experience will always turn out to be advantageous for you and your small business.
6. Flexibility:
A Freelancer does not have specific operating hours and he works from places of his choice. This flexibility can be of great advantage to you too. For example, a freelancer can enable you to stay in touch with the business world post the conventional working hours. You may email your specifications on a Friday and receive the complete assignment on Monday morning already helping your business make money.
For example, if your freelancer is making an e-commerce website for you. He might be ready with it on Friday night and get it on the world wide web the same day, by the time you are back to work on Monday you might already have a set of orders which will only help your business to keep running.
7. Less Supervision and fewer responsibilities:
Since a freelancer is a trained and seasoned player in his field, there is no need for the supervision. A freelancer would always perform the said tasks within the desired period without fail. Also, his livelihood depends on the same.
This can save a lot of your and your staffs headache. Additionally, the payroll for a freelancer in comparison to an employer is significantly reduced. Also, you do not have to worry about the various chores while enlisting a freelancer.
8. Specific expertise for a required time:
Specific experts can be hired depending on the nature of assignments instead of full-time employees that may not be required after the completion of the assignment. Above which if you need a full-time employee it is highly likely you will have to spend money training and developing them so that they may contribute to the bottom line of the company. Hiring a freelance Web developer saves you this time of training and the money spent on it.
9. Technical Requirements:
If you are a person who does not have technical knowledge in the field of web design or development, but you have questions which only a person with technical knowledge will be able to answer. This will not be possible if your work is being done by a firm. Since the person in contact with you will be from the marketing department who would have little or no idea about the technicalities. On the other hand, if your work is being done by a freelancer you are sure to get your questions answered immediately as you have a single point of contact. It is like having a one-stop solution to all your problems.
(Image)


Only in the rarest of cases do freelancers fire themselves. Most of them enjoy working as they love what they do and are constantly developing and learning. You can depend on freelancers for future improvements and upgrades in design too.
Also if there are any changes that you need to make to your current product, say for example a website. Then you can easily contact the freelancer and ask him to do the changes, unlike in a big company if you approach them after a while it is not sure if they will remember you. Also, the Web Designer in that company, who had worked on your product, might not be there. This creates problems for you as the company might treat you as a completely new client and will have to do some rework on your existing product, resulting in the wastage of time and money.
11. Experience and Variety:
Freelancers tend to take up work from a variety of businesses and which have a different set of requirements. Working on such a broad spectrum ensures they have a larger set of ideas to implement in every situation. With each completion of a project, they are growing and developing. Most of the freelancers reach a point in their lives when they can meet any specifications.
This has led to the growth and higher level of competition among the freelancers, resulting in higher availability. As per the current trends and scenario, we can surely expect some change the way we will freelance. Today there are various platforms like Upwork, WorknHire, Freelancer etc. where freelancers register themselves and the type of work they undertake.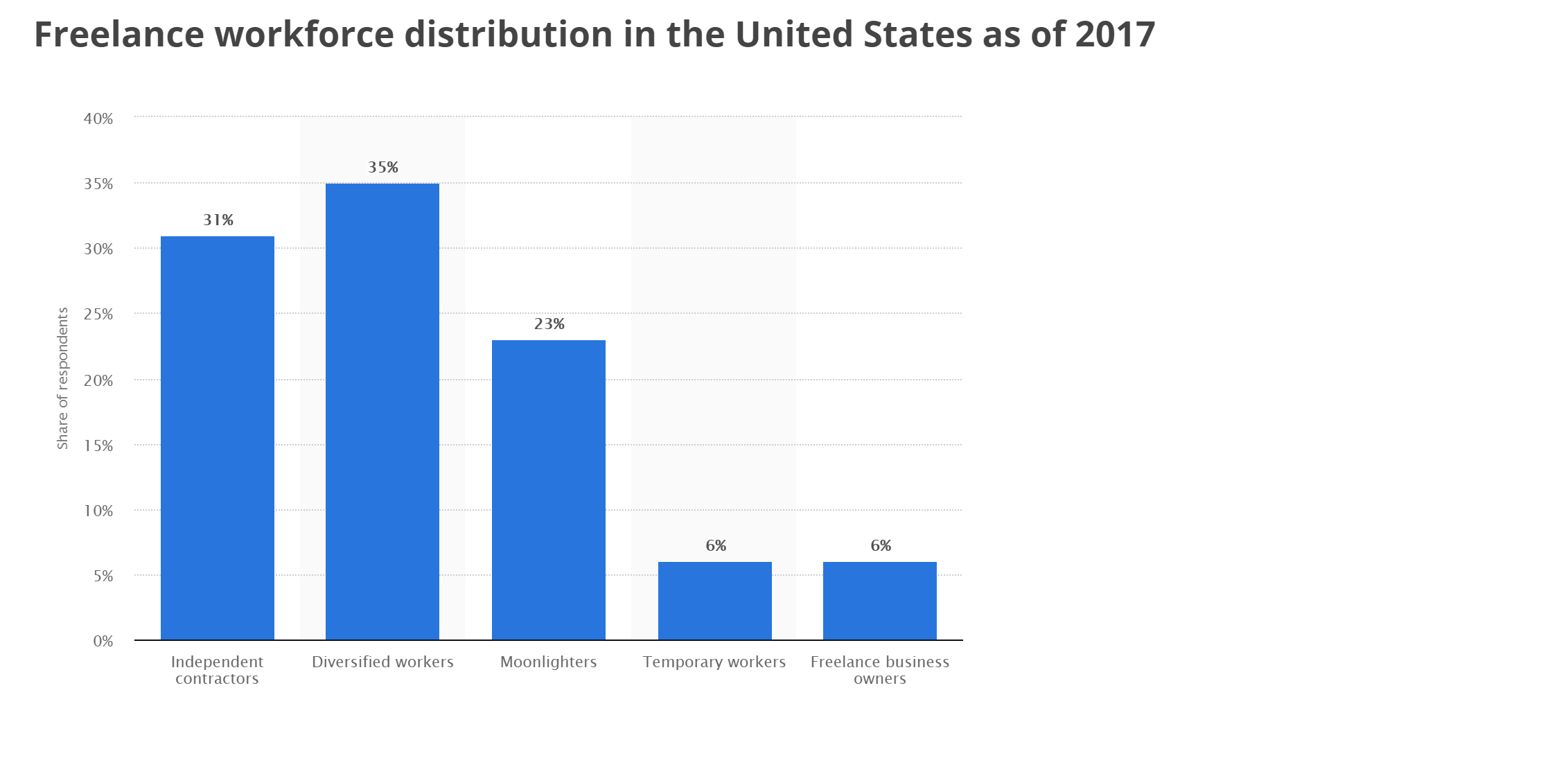 ?
It is believed that the future of working lies in freelancing. Freelancers are growing at
3x the pace of growth
of the normal workforce in the US. More people than ever
prefer freelancing than
a full-time job. They are taking up freelancing by choice. This has helped any employer to easily find his type of freelancer and hire him for a specific period.